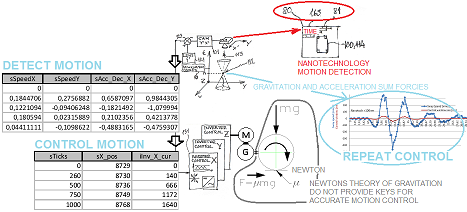 Notice: All informative images are clickable!
General relativity: Gravitation and acceleration are inseparable.
REASONS WHICH ENABLE ACCURATE MOTION DETECTION:
SPECIAL RELATIVE THEORIES OFFER US THE BEST THEORY FOR REMOTE MOTION DETECTION AND CONTROL THEREFROM
GENERAL RELATIVE THEORIES EXPLAIN THE RELATIONSHIP BETWEEN GRAVITY AND ACCELERATION
RELATIVITY THEORIES ARE EXACT THEORIES, THEY ARE NOT PREDICTIVE THEORIES AS NEWTON'S THEORY OF GRAVITY
THE SPEED OF LIGHT [c] IS THE HIGHEST POSSIBLE SPEED TO TRANSFER INFORMATION, [c]= 299 792 458 m/s
PARALLEL LIGHT BEAMS TRANSFER REMOTE OBJECTS PLACE INFORMATION THE MOST ACCURATE AND FASTEST WAY
WITH HIGH DETECTION TIMER ACCURACY WE ACHIEVE NANOTECHNOLOGY POSITION MEASUREMENT QUALITY!
THESWAYTEC.COM MATERIAL HANDLING CONTROL SOLUTIONS
INCREASE ENERGY EFFICIENCY


INCREASE PRODUCTION VOLUME


ENSURE BETTER WORKING SAFETY



REDUCE PRODUCTION DEFECTS
ABOUT THE GRAVITY
GRAVITY AND ACCELERATION ARE INSEPARABLE


GRAVITATION IS A PROPERTY OF SPACE


GRAVITIONAL FIELD HAS WEAKEST INTERACTION OF ANY PHYSICAL FIELD
TECHNOLOGY FACTS
WE ARE ABLE TO MEASURE IN REAL TIME LOAD SWAY MOTION GRAVITATION AND ACCELERATION RESULT FORCIES
NEWTON INERTIAL COORDINATE SYSTEM IS NOT SUITABLE FOR MOST ACCURATE GRAVITATION AND MOTION ACCELERATION MEASUREMENTS
TURN GRAVITY FORCE MEASUREMENT PROBLEM FROM IF YOU CAN'T MEASURE IT, YOU CAN'T MANAGE IT TO IF YOU CAN MEASURE IT, YOU CAN MANAGE IT!
TECHNOLOGY IS A UNIVERSAL PRECISE MOTION CONTROL SOLUTION UNLIKE SOLUTIONS USING NEWTON'S ACCELERATION OF GRAVITY [g ≈ 9,81 m/s^2]
MORE INFORMATION OR GIVE YOUR COMMENTS